Plant Image Galleries



Our Client List



Books & Calendars



Email your Want List



info@gardenphotos.com



Vital Statistics

About Garden Photographer
judywhite

Plant & flower photographer judywhite (aka Judy White) is the principal photographer at Garden Photos .com. Also well-known as a writer, judywhite is author and photographer of the definitive Taylors Guide to Orchids (Houghton Mifflin, 1996), as well of Bloom-Again Orchids (Timber Press, 2010); both books won awards from the Garden Writers of America. Her photography has graced many books and publications (including Garden Design, Better Homes & Garden, Reader's Digest Books, The Guardian newspaper, and the Sierra Club, among thousands of other credits). She was the photographer for such books as the upcoming Powerhouse Plants (Timber Press, 2012), Planting the Dry Shade Garden (Timber Press, 2010), The Ultimate Book of Small Gardens (Cassell, 2005), The Sweet Pea Book (Timber Press, 2004). Her images can be found on many nursery plant labels (such as at Lowes), and has been exhibited at the Smithsonian Institution. She has also been honored by the Garden Writers of America for Outstanding Magazine Photography.

A past Trustee of the American Orchid Society (AOS), she has earned the Society's highest prize for writing about orchid culture, as well as the AOS Silver Medal for outstanding service to the orchid community. Her orchid travels have taken her to the orchid greenhouses at the Moscow Botanic Gardens to traveling the headwaters of the Amazon River in a dugout canoe with the Chairman of the Rainforest Alliance, from the Equator to as high as 14,000 foot mountaintops on the Colombian border.

A gardening Internet pioneer, judywhite was one of the founding talents behind Time Warner's Virtual Garden, which debuted in 1994 and quickly became the first mega gardening site on the Web, and helped define gardening on the Internet. Under her helm, Virtual Garden was nominated for a 1998 "Webby" Award, the "Oscars" of the Internet. As its Editor-in-Chief, judywhite created the first live Web coverage of the most famous garden show on earth, the Chelsea Flower Show in London, England, and built the websites for the New York Botanical Garden and the American Orchid Society.

A former research biologist, she holds a B.S. in Chemical & Cell Biology from Rutgers University College of Agriculture and Environmental Science, where her undergraduate research in hormones & behavior was published in scientific journals. She began her writing career as a humor columnist for Seventeen Magazine.

judywhite is a Past Board Member of American Society of Media Photographers-NJ Chapter, member of the Author's Guild and the British Garden Writer's Guild. In 2003 the Smithsonian Institution held a 6-month exhibition in Washington, DC, that showcased her orchid photography. She is a past president of the Black Bear Film Festival. Her feature film screenplay, "Lies I Told My Little Sister," is being filmed in Spring 2012.

She is married to the renowned British garden writer, Graham Rice.

Stock Delivery Terms

Please feel free to send us your current Want Lists.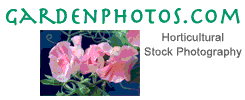 Ga